Oh poor blog! How I have been neglecting you! It's been three days since my last post, and I feel like a bad mama, but how glamorous or exciting can a girl's fashion be when she's just being sick in a sweat suit and watching What Not to Wear or The Golden Girls? Not very, I should know. But never fear!
Okay, earlier this evening, well yesterday, considering it's one in the morning, I found Violet Le Beaux's
blog
. And I'll be darned if it isn't one of the cutest things I have ever seen. Okay, so I have this secret, that I've never told anyone, but in seventh grade, I found Loli fashion, and I wanted it. For several months I just planned on ways to get my hands onto one of those lovely lacey girly dresses that weren't shipped anywhere outside of Japan, but eventually gave up. A girl can only dream so much.
So where am I going with this post? Well in one of Violet's outfit posts, she mentioned the Website
Baby the Stars Shine Bright
, oh mah gah. What a blast from the past! I don't think I've looked at the website in three years! (oh that makes me feel old)
Surprise surprise, I found myself drooling over dresses yet again. So okay, my style has changed a lotttt since seventh grade, (And thank god, it was really awful, It was towards the end of my weird cargo pants/faux punk phase, but sadly, not the end of my fashion woes.) but for some reason, something about a Loli dress just makes me wanna squeal. Now get me straight here, I don't think I would want to be a Loli girl, they're really sweet, but I'm kind of a sucker for red lipstick and victory rolls, it wouldn't work. Even so, I love the dresses.

I'm just gonna try to cut myself off before I type a small essay, and just post some pictures of my favorites.
I can't get over this dress, *Swoon!* It's chocolate brown. I've had a secret love affair with the color chocolate brown, since my sister's wedding, where all the bridesmaids dresses were chocolate brown. If you can't tell, I'm kind of in love with this color.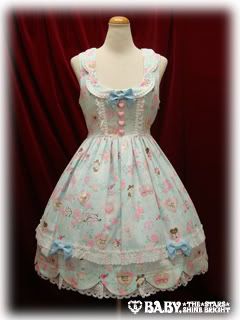 Confession time, I am not a fan of novelty prints, not in the least. I just don't understand them. BUT, this is one that I just find utterly adorable! How sweet is this? I might just die from adorability overload.
Ohhhh. I love me some gingham. I think I was raised on this stuff! So I'm not a total fan of this dress (IE: The criss cross at the neck, and the high waist) but it was just tooooo cute to pass up. Get a load of all the bows!
Last one, I promise!
BTSB has some of the most squeal worthy skirts ever, not gonna lie. I mean who in their right mind could pass up an Alice in Wonderland print skirt ? I duno, maybe a heartless person who kicks puppies, steals candy from babies, and runs over little old ladies in the street. Yeah. Loves it!
Thats it for now! Kudos if you actually read everything I wrote, but I don't blame you if you didn't, and then just skipped ahead to look at all of the pretty dresses ;)